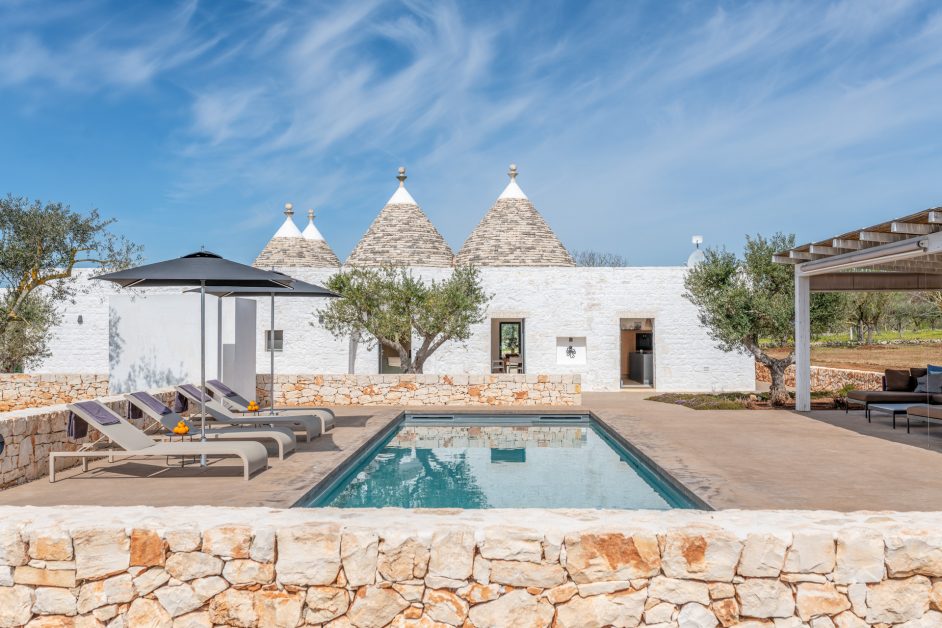 Trullo Bello in Martina Franca, Apulia, € 880,000
Apulia (or Puglia) is sometimes sidelined by second home buyers, with attention focusing on Liguria, Tuscany, and island destinations. But the region has much potential, in terms of investment opportunities and offering that all-important "dolce vita". And with Puglia's flourishing agrotourism, there are both rental and more involved ways to make a return on your investment.
Our Ostuni-based partner Raro Realty shared some valuable insights on where to settle in Apulia, and the benefits of buying a "trullo" (traditional to the area), a historic home, and a seaside villa.
Picturesque Apulia and its varied landscapes
One of the most popular regions in the country, Apulia boasts fabulous beaches and picture-postcard scenery, alongside priceless historical and cultural heritage and a unique culinary tradition. It's no wonder tourists from all over the world are attracted to the area.
Owning a property in Apulia presents several opportunities: A beautiful place to spend time with loved ones and a way to generate rental income and obtain a high economic return. Indeed, a mixture of the two is possible. The mild climate and sea air facilitate a long tourist season – almost 10 months – without counting residences situated in prime positions that people want to book all year round.
Burgeoning agrotourism in Apulia
Apulian masserias dot the enchanting Itria Valley – traditional farmhouses offering accommodation and a tranquil atmosphere. Owning and renting them is an increasingly popular trend, rivaling the long-standing tradition of buying a second home by the sea.
People are drawn to the Itria Valley, where the landscape spans dunes, lush vineyards, and olive groves. And with the concept of luxury changing, linked more and more to feeling good and unique experiences, Puglian masserias are making strides in the tourism industry.
Luxury Apulian villas for sale in first-rate locations
Raro Realty has a number of quality listings (and investment opportunities) on the market, from a villa with a sea view in Ostuni and a 19th-century manor house in Polignano a Mare that would make a wonderful masseria, to a tastefully decorated home near Taranto.
Orama Relais: Tailor-made villa in Ostuni
Price: approx. $3,150,000
Known as "The White City", Ostuni is one of the standout towns in the scenic Itria Valley. There, you'll find this contemporary six-bedroom property with a swimming pool – an ideal investment spanning 4,306 square feet. Located just six kilometers from the sea (and the beaches of Torre Pozzelle and Costa Merlata) and three kilometers from the historic center, the chic residence boasts panoramic countryside and Adriatic Sea views and is spread over two levels (ground and lower). Sleeping up to 11 people across five bedrooms, there are three doubles in the main building, and an annex with external access housing a double, a single, and a more spacious bedroom with a bathroom and a walk-in closet. Not-to-be-missed experiences in the area include visiting the submerged port of Egnazia and the Coastal Dunes Regional Park, witnessing the olive harvest, stopping at nearby wineries for tastings, and taking a cooking class.
Tenuta Belvedere: Historic villa near Polignano a Mare
Price: approx. $6,500,000
Polignano a Mare sits on the east coast of Apulia in the province of Bari and is considered one of the most beautiful villages in Italy. This rare 12-bedroom investment opportunity sits on the outskirts – a late 19th-century villa on a 19-hectare farm, complete with six annexes overlooking the gardens. Covering 12,917 square feet and with potential to expand, each bedroom has air-conditioning, and there's also a reading room, bar, restaurant, breakfast room, dining space, and two lounges. Building is underway for an outdoor dining area/kitchen for weddings, and there's approval for an additional 12 bedrooms with en-suites. Wander the grounds and be greeted by a pool and approximately 2,400 olive trees. A visit to the sea caves of Polignano is recommended, and having a meal at charming Grotta Palazzese is a must – set in the rocks, it's a jaw-dropping spot with food to match.
Tenute Petrosa: Stylish residence in Taranto
Price: approx. $1,700,000
On the opposite side of the coast is Taranto, a city that straddles ancient and contemporary, with a bridge that divides the old 19th-century neighborhoods and the avant-garde districts. Known as the "City of Two Seas" because of its geographical position straddling Mare Grande and Mare Piccolo, the locality boasts 140 kilometers of coastline and glorious views. This brand new six-bedroom house is situated east of Taranto, spans 3,230 square feet, and is surrounded by nature and olive trees. Spread over two levels, there's plenty of indoor/outdoor living to enjoy, plus a pool, a relaxation space for massages, and an outside fitness area. Décor-wise, it's minimal and modern all the way. Noteworthy experiences include visiting Taranto Old Town and Ponte Girevole and taking a boat trip to the nearby Cheradi Islands. Similar to the other two properties, this lends itself well to income from seasonal tourism, with a meaningful return on investment expected over time.
Where to get a feel for life in Apulia
If you're keen to explore the real estate market in Apulia on the ground, there are several 5* shining examples to take note of. For instance, Borgo Egnazia is a farmhouse in the Savelletri countryside, 25 minutes from Polignano a Mare. Built and managed by the Melpignano family, Justin Timberlake and Jessica Biel chose the idyllic spot as their wedding venue. The upscale estate has scores of awards to its name, with the International Luxury Travel network naming it the "most beautiful hotel in the world".
Just 10 minutes away is deluxe Masseria San Domenico, a property that started life as a watchtower back in the 15th-century. Restored and opened to the public in 1996, the impressive site boasts an 18-hole golf course with Adriatic vistas. Meanwhile, exclusive Masseria Torre Maizza lies 10 minutes inland and stands on a hilly area overlooking the sea. Once a fort, the destination is now home to elegant guest rooms and a nine-hole golf course, and was classified as one of their top 10 eco-friendly boutique hotels.
Contact Raro Realty to find out more about villas for sale in Apulia.